Lewd Beholder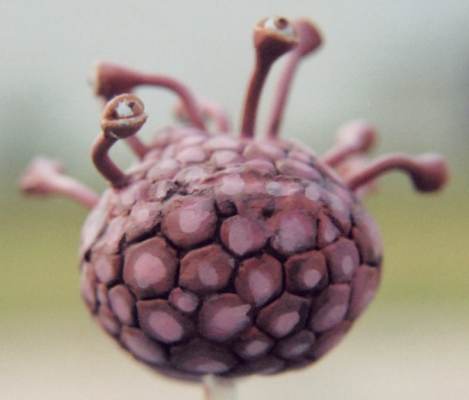 Final pictures.
Here's what I like about the mini - the inside of the mouth, and the tongue. Although it did show a bit of brushstroking, it was as wetbrushed as I could get it. I'm going to force Aryanun to get a good picture of the teeth when she photographs this, since those rocked. Especially the top row. The outside/upper lip also benefitted from a wash I gave it to bring out the cracks.
What I didn't like was the layering I tried out. We got some excellent tips at Reaper, and some people will be able to do things with the technique that I won't be able to touch in a thousand years. But if there was one thing my art teacher knew and pushed onto his students, it was coloring and shading. I'm going to do the next mini almost entirely as wet-on-wet as possible, to see how consistantly I can do it.
Also, I missed part of two stalks somehow (I think I actually smudged them off while painting other stalks), and the creaselines where I let the putty win the battle of wills is also kind of a downer.
I guess it's not bad for a first. I can definitely use it as a reference for things I either overlooked, or did well but in the wrong stage.
My second mini is already showing massive improvement over this first one.
What I learned: I suck at layering. I have a ways to go, but wet-blending might be the way for me.