Caveman & Girlfriend - Reaper #02387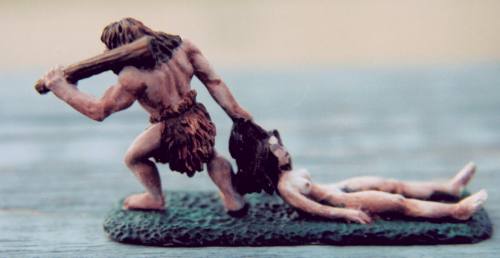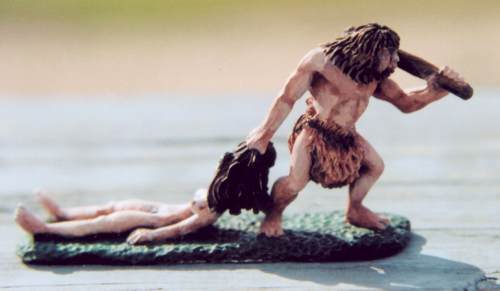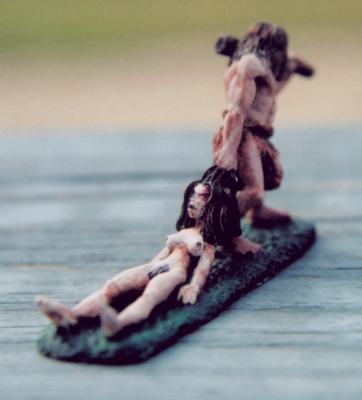 Final pictures.
After taking on a beholder which couldn't be properly mounted for painting, and a piece with a ton of detail which I couldn't see until it was opened, this one just seemed like good sense. Two people, big hair, one loincloth, and a base which I could just cheese and paint soccer field green.
On top of my bullheadedness to master wet-blending, I also tried a couple more experiments. First, I really had fun with the priming. Most of it just got covered in paint-on zinc, but some highlights in the hair and pieces of the loincloth got Reaper White paint-on. Then, I painted in some shadows using Reaper's Walnut color, watered down just enough to go on dark and flat.
First came the club. That piece was worked over ten times more than it appears to be, and I still haven't mastered the wash. As a post-finished revelation, maybe it's time I switch to ink for doing the washes.
The skin was almost entirely an experiment in wet-blending. Some parts worked - particularly on the male - and some parts didn't. Particularly on the female. However, the previous shadowing really shined through here, if only in the subtle way which only I seem to love. Still, given that I love the subtleness, every bit of contrast helps.
The hair came halfway through finishing the skin. The white and zinc primers started to show through here, again in subtle ways. However, it gave me an outline for mixing (again!) oiled leather and walnut! There's also some red in the girl's hair.
Then came time to finish the skin. Caucasion and Oiled Leather for the male, Fair Maiden and Oiled Leather for the female. Oddly, the male figure shows a greater deal of contrast.
The loincloth painted itself. It already had three different colors working beneath what was going to be an addition of Oiled Leather and a light shade of grey. But once the first layer went on, it just looked too good to mess with.
Finally, the faces, touchups, and cheap green base painting. The girl had her eyes closed, and the guy's were so droopy as to be almost closed, that I decided not to bother with them. I darkened the sockets, lightened the cheeks, added more dark color to the insides of their mouths, and put a big red smack mark across the woman's face. :D
Things I like: The contrast on 90% of the male's body. Some of the highlights on the woman's (lower clevage, upper arms and legs). The loincloth.
Things I don't like: The skin is sometimes splotchy. The woman's skin lacks contrast. The base was cheesed, as I lacked the equipment and cajones to use static grass.